Better Earthing Australia
Welcome to Better Earthing – we're the first and only Australian maker of indoor earthing products or grounding products for better health.
Our Certified Australian-made products are best in class, and we give the longest warranties worldwide on our earthing mats and earthing sheet underlays.
You'll feel fantastic with better earthing. Our customers regularly experience deeper sleep, less pain, and more energy.
---
See the Power of our Earthing Grounding Products
Our Most Popular Grounding Products
---
What people say about Better Earthing products….
---
Certified Australian Made & Owned
Better Earthing was founded by husband and wife team Peter & Corrina Griffiths in the beautiful Gold Coast hinterland in 2015. We use the highest quality components and work with Australian businesses to assemble, manufacture and test our products to Australian standards of workmanship.
Since mid-2016, we have made grounding products for Earthing People Sweden and Earthing Netherlands, which are tailored to their local needs and under their own label. They are Europe's two most experienced and long-term earthing product distributors. Europeans love quality!
In 2019, we began making earthing bedding with medical-grade stainless steel filament, which is more durable for earthing than carbon or silver. We continue to innovate with new fabrics and products.
---
A World's First – The Better Earthing Australia Underlay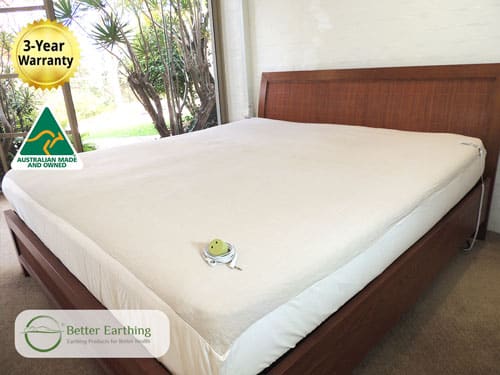 Better Earthing made the world's first earthing underlay back in 2014. We make the most advanced and durable earthing sheet underlay or undersheet in the world. It is backed with a 3-Year warranty and will outlast every other earthing sheet, earthing sleep system, grounding mattress pad or earthing sleep mat worldwide.
We use medical-grade stainless steel fibre. Stainless steel cannot be damaged by oxidisation from creams, lotions, sprays or oils or sulphur in sweat. Hence the long warranty!
This patented earthing fabric is breathable and feels like denin jeam fabric. Because it is an underlay, you don't have to wash it often. Just set it up and experience the results.
Published studies in peer-reviewed journals have found that sleeping on an earthing product can normalise cortisol levels that contribute to poor sleep, speed recovery from muscle strain, prevent calcium and bone loss, and much more. See earthing research here.
You may find that you have more energy, less stress, and better health with regular earthing.
---
Earthing – What to Expect When You First Start
Feel calmer and less stressed
Boost your immune
Have more energy
Sleep better
Less pain or stiffness
Get your body back in balance
Better Earthing's Carbon 60 Oil Range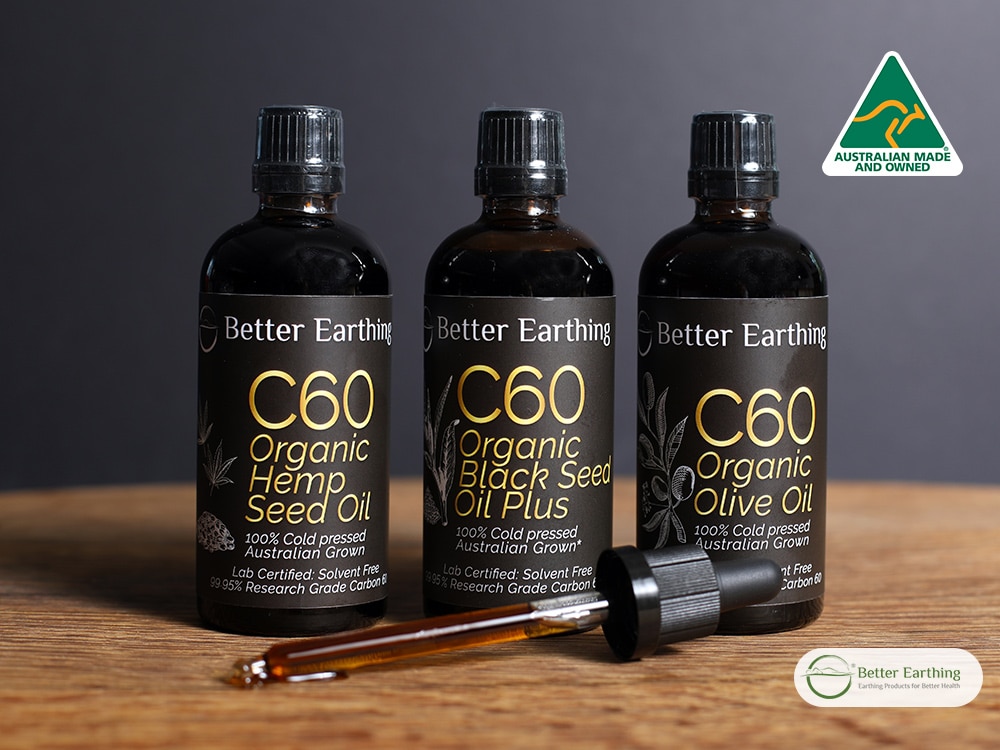 Certified Australian Made. We use organic, cold-pressed, and largely Australian-grown oils.
Infused with Ultra-pure, solvent-free, SES research pharmaceutical grade carbon 60 (99.95%)
C60 is a unique and potent free radical scavenger. As a very small molecule, it can get enter all parts of your body including passing through the blood-brain barrier and even into the mitochondria (tiny powerhouses of cellular energy).
Research into carbon 60 is ongoing and includes potential benefits for Alzheimer's, liver function, hair loss, skin appearance, and more.
Our oils are selected for the finest qualities and taste.
Explore more