Guarantees
In addition to our repair or replace warranty, Better Earthing gives the following satisfaction, quality and value guarantees.
1-Year Satisfaction Guarantee
Updated terms effective from September 14, 2019.
Note: If you wish to return any UNUSED perfect condition products within 3 months of purchasing, we'll refund the cost of the items in full, less our shipping costs. See our Shipping and Returns for further details.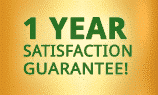 If you're not satisfied with your earthing products within a whole year of purchasing, we'll refund you all or the larger part of what you paid (details below). Any goods returned can be well-used so long as they are in good working order and have a return authority reference.
Of the total product value, we'll refund 100% of the first AUD$200 in full plus 50% of each $ you spend over $200 on goods that you return.
Example refunds within 12-months of purchasing.
Example Products
We Refund the 1st AUD$200 in full plus 50% of each $ you spent over $100
1 / Fabric Grounding Mat by Better Earthing @ AUD$99
We refund $99 in full
2 / Premium Earthing Pillowcase @ AUD$169
We refund $169 in full
3 / Fabric Grounding Mat & Premium Earthing Pillowcase total AUD$264
We refund $232 (1st $200 + 50% of the remaining $64)
4/ Better Earthing Sheet Underlay @ AUD$500
We refund $350 (1st $200 + 50% of the remaining $300)
5/ Returning Some, but not All Products you ordered.

Example. You bought two earthing underlays selling @ AUD$400 each with a total price of AUD$800 and got a 5% for buying two. Total paid AUD $760. You wish to return one costing you $360.

We refund $280 (1st $200 + 50% of the remaining $160. $360 paid for the 2nd discounted sheet).
If you have any concerns about whether earthing can help you before buying, consider starting small with a Fabric Grounding Mat or a Premium Earthing Pillowcase. These products have no or very little financial risk.
Please contact us for an honest view if earthing can help you, as it is also in our financial interest that you don't buy if you are not satisfied. The cost to make our product (which we cannot resell if used) plus admin, handling and service costs outweigh any dollars offset from what we retain under the above refund guarantee.
What to do if you're unsatisfied with your earthing results
Call or email us to let us know and allow us the chance to help. Most times if good results are not achieved, the earthing strength is either too weak or too strong for your individual needs. We touch on how to change the earthing strength in our 'New to Earthing Experiences' guide included with your product. There are also finer product tips we can talk about by phone.
If you still don't get a good result after trialing any product advice we give, we'll give you a return authority reference under our 1-Year Satisfaction Guarantee.
Please note, your products must be returned undamaged (from washing with incorrect detergents for example, see our care instructions) and in good working order with all leads/cords, accessories and our Return Authority reference. It is OK if your products are damaged through normal use while following our care instructions. Once received and checked, we'll refund you less any shipping costs we've incurred. We ask that you cover the freight cost of returning the goods to us. For assistance please contact Better Earthing Support on 07 5534 9307 (Aust) or 09 887 0912 (NZ) or email us at [email protected] and we can guide you through this process. Returns can only be accepted with a return authority.[/fusion_text][fusion_text]
Highest Quality Guaranteed
Our Better Earthing products are the highest quality worldwide and we back that statement with the longest warranties on how long they will effectively earth for. We were the first in the world to introduce warranties beyond government mandatory warranties, with our 2-Year and 5-Year warranties. See our Warranty page for further info on common problems earthing products can have and how we aim to avoid them.
Best Price Guaranteed or we'll beat it by 20%
If you find another brand (or "no-name") comparable earthing product of equal quality to ours with a lower recommended retail price (ie non-sale or fire-sale price), we'll beat it by 20%.
If you tried to DIY products of our quality, the cost of the materials alone would invariably be more than to what we sell the finished product for. We are the product maker, without multiple middlemen in between and we ensure margins are kept low. This Best Price promise excludes prices from our European partners whom we make the same products for under their brand name, which are sold at a similar price. However due to exchange fluctuations, our prices will sometimes be higher or lower than our European partners.
We hope our Guarantees and Warranty give you peace of mind. Please contact us if you have any questions.